准教授・秋山 泰身 (Taishin Akiyama, Ph.D.)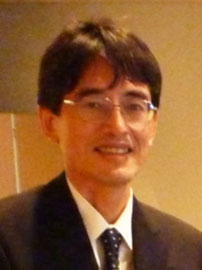 [Position] Associate Professor, The Institute of Medical Science, The University of Tokyo
[Address] 4-6-1 Shirokane-dai, Minato-ku, Tokyo, 108-8639 Japan
[Phone] 81-3-5449-5276
[Fax] 81-3-5449-5421
[E-mail] : taishin@ims.u-tokyo.ac.jp  

< Carrer >
[Education]
1987 B.D. Hiroshima University, Faculty of Medicine
1989 Master D. Kyoto University, Graduate School of Pharmaceutical Science
1992 Ph.D. Kyoto University, Graduate School of Pharmaceutical Science
[Professional Career]
Research Fellowships:
1992-1993: Research Associate in Graduate School of Pharmaceutical Science, Kyoto University.
1993-1997: Research Associate in Department of Physiology and Biophysics, Baylor College of Medicine 
1997-2000: Postdoctoral Fellow of Japan Society for the Promotion of Science
Academic Appointments:
2000-2002: Lecturer, Faculty of Science and Technology, Keio University, Japan
2002-2008: Lecturer, Institute of Medical Science, University of Tokyo
2007-2010: PRESTO Researcher, Japan Science and Technology Agency
2008-present: Associate Professor, The Institute of Medical Science, The University of Tokyo



< Research Interests >

・Immunological self-tolerance
・Lymphoid organogenesis
・Signal transduction

< Selected Publication >

1. Akiyama N, Takizawa N, Miyauchi M, Yanai H, Tateishi R, Shinzawa M, Yoshinaga R,
   Kurihara M, Demizu Y, Yasuda H, Yagi S, Wu G, Matsumoto M, Sakamoto R, Yoshida N,
   Penninger JM., Kobayashi Y, Inoue J, and *Akiyama T.
  Identification of embryonic precursor cells that differentiate into thymic epithelial cells 
  expressing autoimmune regulator
   J. Exp. Med. 2016, 213: 1441-1458 doi: 10.1084/jem.20151780
2. Akiyama N., Shinzawa M., Miyauchi M., Yanai H., Tateishi R., Shimo Y., Ohshima D.,
   Matsuo K., Sasaki I., Hoshino K., Wu G., Yagi S. Inoue J., Kaisho T., and *Akiyama T.
  Limitation of immune tolerance–inducing thymic epithelial cell development by Spi-B–
  mediated negative feedback regulation.
   J. Exp. Med., 2014, 211: 2425-2438 
3. Mouri Y., Yano M., Shinzawa M., Shimo Y., Hirota F., Nishikawa Y, Nii T., Kiyonari H., Abe
   T., Uehara H., Izumi K., Tamada K., Chen L., Penninger JM., Inoue J., *Akiyama T, and
   Matsumoto M.
  Lymphotoxin Signal Promotes Thymic Organogenesis by Eliciting RANK Expression in the
  Embryonic Thymic Stroma.
   J. Immunol., 2011, 186: 5047-5057
4. *Akiyama T, Shimo Y, Yanai H, Qin J, Ohsima, D, Maruyama Y, Asaumi Y, Kitazawa J,
   Takayanagi H, Penninger JM, Matsumoto M, Nitta T, Takahama Y, and Inoue J.
  The Tumor necrosis family receptors RANK and CD40 cooperatively establish the thymic
  medullary microenvironment and self-tolerance
   Immunity, 2008, 29: 423-437.
5. Qin J, Konno H, Ohshima D, Yanai H, Motegi H, Shimo Y, Hirota F, Matsumoto M, Takaki S,
   Inoue J, and *Akiyama T.
  Developmental stage-dependent collaboration between the TRAF6 and lymphotoxin
  pathways for B-cell follicle organization in secondary lymphoid organs.
   J. Immunol. 2007, 179, 6799-6807.
6. Akiyama T, Maeda S, Yamane S, Ogino K, Kasai M, Kajiura F, Matsumoto M, and Inoue J.
  Dependence of Self-tolerance on TRAF6-directed Development of Thymic Stroma.
   Science, 2005, 308: 248-251.